Product Description
Pin Code Reader for Chrysler used for reading pin code for type 2 Chrysler vehicle.
Pin Code Reader for Chrysler
Top 3 Reasons to get it:

1. Language:
English

2. No Need To Connect With Car

3. Support Car Type:Chrysler (Type2)

Note: Can't Be Updated

Function:
1. Read out Chrysler(TYPE2) vehicle pin code.
2. Read data from Immobiliser controler and show the pin code on the screen of the device directly
Package including:
1pc x Pin Code Reader for Chrysler
FAQ:
Q1: If there is the battery inside the package?I didn't see it from the picture.
A1: Sorry,there is no battery along this package
Q2: Which voltage should I use with this pin code reader?
A2: You need use this with the 12V voltage power supply
GODIAG Odometer Correction for Ford, GM, Toyota, etc
Any question please don't hesitate to contact us:
Whatsapp/BOTIM: +86 18259252285
Email:
Sales@OBDII365.com
Skype:
OBDII365.com
Shipping method and delivery time:Due to COVID-19 Global Pandemic, the delivery date of your order may be delayed for some days. We are sincerely sorry for all inconvenience we will bring to you.
If US/UK Stock sold out, your order will be shipped from China via DHL or YANWEN(No Tax).US, UK , CA, RU Warehouse Shipping:
3-5 working days. We have stocked up hot sale items in US, UK, CA, Warehouse,
Free TAX
, faster shipping with best offer.
Ship From UK, No Tax

Ship From US, No Tax

DHL Shipping:
DHL Express is our default shipping method to most countries, 3-4 working days,
to help you pay for less custom tax
we will declare a lower value on DHL invoice. If your address is remote area, you need pay extra freight or we will ship by Normal Post or Yanwen/EMS/Aramex Express.
Yanwen Express:
5-10 working days,
Tax Pre-paid, usually no extra fee
for European Countries or Remote Area.
(Due to high tax in European countries,like Germany, Greece,Romania,Sweden,France,etc, Yanwen express will be used as first option, if you need faster DHL, please contact us after payment ,thank you :)
Tech Support
pin-code-reader-for-chrysler-obd365.pdf
PIN CODE READER for Chrysler file download (
contact us to send you, sales@OBDII365.com
)
How to use Pin Reader for Chrysler (Tpye 2)
How to get Chrysler Pin code?
Pin code reader for Chrysler
isavailable in OBDII365.com. Our technicians have made a tutorial on how to get pin code with the tool, hope it helps.
Method 1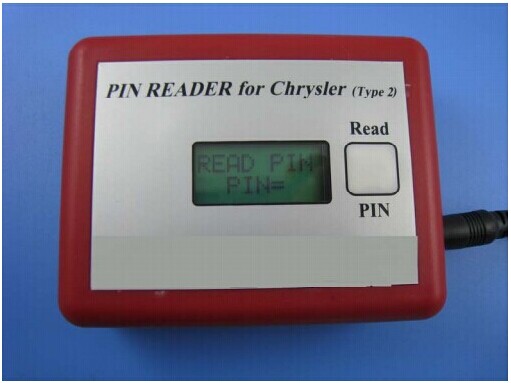 1. Remove the IMMO box from the Chrysler vehicle that you are going to read Pin code from. The box is located on the Ignition lock. Below is the IMMO box:2. Open the box, desolder the two pins of coil connection on the PCB (as shown in the picture below) and remove them off.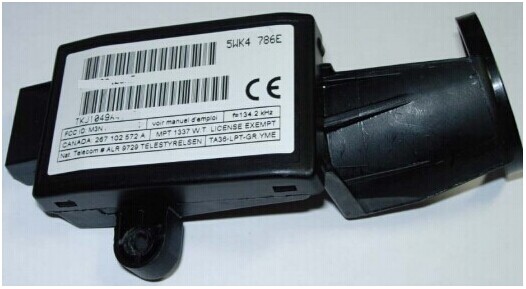 3. Find a chip named EEPROM "24LC02B" on the board. It is nearby one of the coil connections removed just now.
4. Clean every pin of the 24LC02B chip and connect the clip to the microchip, black point to pin1 of the chip.

5. Press " Read Pin " button on the Pin reader for Chrysler (TYPE 2), and you will then see its Pin code on the screen.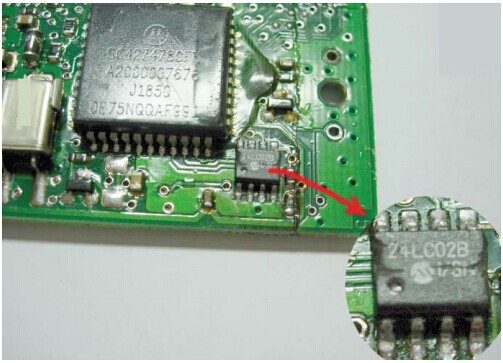 Method 2
Here is another way to use the Pin code reader. The tool comes with a 4 wires cable. By using the cable, you can read the pin code without removing the connections from the IMMO box.
1. Remove the IMMO box from the Chrysler vehicle that you are going to read Pin code from. The box is located on the Ignition lock. Below is the IMMO box: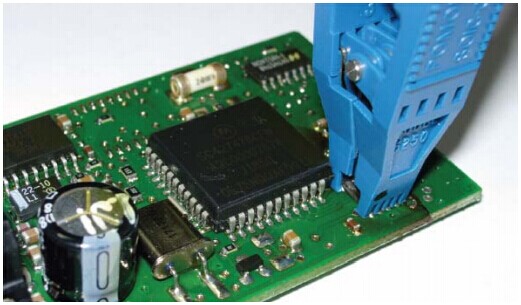 2. Connect the white wire to point1 , black wire to point2 , blue wire to point3 red wire to point4.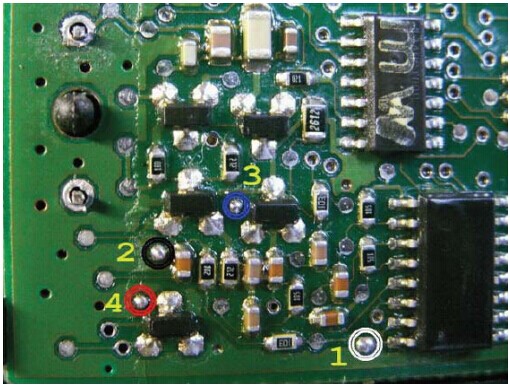 3. Press "Read Pin" button on the unit, The screen will then show the Chrysler Pin code.